It takes teamwork to provide outstanding title and closing services to our clients. Everyone at South Oak Title and Closing is critical to our success, working hard at their individual roles and collaborating with one another to ensure that everything goes smoothly.
Our title underwriters work behind the scenes to issue title commitments and provide our clients with the assurance that their title is clear at closing. We spoke with Madison Cumby, one of our title underwriters and attorneys, to learn more about her work as a title underwriter at South Oak in Birmingham.

How did you get started as a title underwriter?
I attended Cumberland School of Law at Samford and began applying for jobs in the Birmingham area prior to my graduation in May 2021. A friend of mine had been an intern here at South Oak and loved working here, but she was planning to move after graduation. She recommended that I take a look at South Oak while also recommending me to the leadership here. I interviewed, got the job, and dove right into the world of title underwriting.
I really started from ground zero, and I've learned a lot about the title industry, title insurance, and property law since I've been here. My coworkers have been a huge part of this process, and I've loved that I've gotten to learn and grow into this role.
What does a title underwriter do?
When someone orders a title, it initially goes to the abstractors who will pull the title search. This contains all of the public records for a property. Once this search is complete, the documents go to the title underwriters.
We go through the entire title report in great detail. We're looking for any issues or red flags in the chain of title, identifying encumbrances or liens, and ensuring that the property can be sold. If there are issues – and there often are – we work with the buyer, seller, and closing agents to get these resolved. Occasionally there will be a larger issue at play, and we might need to require the parties to proceed with a quiet title action or work with other parties to clear a break in the chain of title.
Once our investigation is complete, we generate the title commitment. Every commitment will contain requirements and exceptions, and if there are exceptions that the lender or buyer is not willing to accept, we'll work with them to see if we can come to an agreement.
What does a typical day look like for you as a title underwriter?
On a typical day, I'll come into my office and start off by checking my email. I usually have several emails that include updates to files (such as changes to the loan amount) or questions about title commitments. I spend about an hour making updates and answering questions before I move on to the files.
The rest of my day is generally spent working through my files, examining title searches, and generating title commitments. Because I'm an attorney who's also a title underwriter, I generally get more of the files that have potential legal issues. You don't have to be an attorney to be a title underwriter, but being one does allow me to look at all of the documents for a property from a legal perspective.
What's the most satisfying part of your job as a title underwriter?
It's always so satisfying to find resolutions for our most difficult files. With some files, it can take weeks to find a solution that is effective and is also satisfactory to all parties. Once we can get this solution in place, we're able to finally close on the property and present a clear title.
These are especially great because we know that there are occasionally situations where we just can't find a resolution. Whether the solution is too costly or there are other interested parties who are unwilling to sell, some sales will, unfortunately, fall through.
What's the hardest thing about your job as a title underwriter?
It can be challenging to communicate effectively with people who aren't in the real estate industry because our processes don't always make sense to them. Things that seem like they should be straightforward really aren't.
Surveys are often necessary for properties that have incomplete or inaccurate legal descriptions. Because surveyors are backlogged, these can take some time to get done. Clients are often frustrated because the survey appears to be just an added expense or delay to closing.
It may look like we're dragging our feet or unnecessarily holding up their closing, but the reality is that we're trying to complete our process correctly, ethically, and legally. It's so hard to know you're working hard on a file and the client feels like you're just a roadblock to closing.
What do you wish people knew about being a title underwriter?
I wish people knew that title commitments aren't instantaneous. While we work very hard to process our high volume of files in a timely manner, we treat each file individually and with care. We have to make sure that we don't miss anything in the title report, everything has been searched correctly, and that our processes have been followed completely.
What would you tell someone considering a career as a title underwriter?
Title underwriting is a great career for those who like working in a fast-paced environment. While it does help to be an attorney, you don't have to have a law degree; you can become a title underwriter if you are licensed as a title agent.
In the title industry, we turn over our files quickly. This is really different from litigation, where you might work on one case for a year or more. As a title underwriter, there are always new projects, new clients, and new challenges.
What's unique about working as a title underwriter at South Oak?
It really is a family at South Oak. We work together as a team, and everyone is very comfortable with one another. We collaborate well from start to finish, and everyone has a valuable role to play. No one feels like they're more important than anyone else, and we try to support each other and help each other whenever we can. It's such a positive place to work.
Every member of our team takes pride in helping our clients close with confidence, and we are committed to handling every single file with care and giving it the attention it deserves. You can order a title or schedule a closing online using Qualia Connect, or you can call your local South Oak location for more information. And if you're interested in learning more about becoming part of the South Oak family, visit our careers page.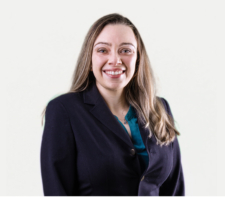 Madison Cumby received her undergraduate degree in Environmental Science at Samford University before graduating from Cumberland School of Law in Birmingham. People might be surprised to learn that Madison is also an accomplished archer and showed both dogs and chickens while in high school.
Madison joined the team at South Oak Title and Closing as an Attorney and Title Underwriter in 2021.