For every title insurance policy, there's a title commitment that comes before it.
Issued at the beginning of a real estate transaction and prior to closing, this title commitment provides valuable information about the sale. While this may seem like a formality to glance at and file away, realtors should read this document carefully and identify potential red flags that could impact your closing.
Erin McConatha, Attorney and Title Underwriter at South Oak Title and Closing in Birmingham, Alabama, shares helpful tips for reading and understanding title commitments.

What is a title commitment?
A title commitment is a document that is issued by the title company and is essentially a promise to provide title insurance for a property after closing. A title commitment is a part of almost all real estate transactions, and it includes the current ownership status, a list of requirements that must be fulfilled before the title company can issue title insurance, and any exceptions to the title insurance policy.
The title commitment is delivered to all parties involved with the real estate transaction. This includes realtors, lenders, and if the closing is being handled by a firm other than the title company, to the firm performing the closing.
Why realtors should read the title commitment
As a realtor, you're usually juggling several transactions and a significant amount of paperwork. With everything you have going on, the title commitment may seem like a mere formality. But while there are several standard pages to any title commitment, each title commitment has unique sections that you need to read carefully.
Erin McConatha, Title Underwriter at South Oak Title, says, "While the title company has the contract and the necessary details to issue title insurance, realtors are far more intimately acquainted with the transaction. As a result, realtors can identify potential red flags on the title commitment well before closing. In many ways, the title company doesn't know what it doesn't know."
For example, the title commitment may reveal that the title is currently vested in someone other than the person who is selling the home. This may not appear as a problem when searching the title, so the realtor involved with the sale can catch this upfront and notify the title company. Honest errors can also occur in the legal description of the property or requirements, so it's always good to read these carefully.
No one likes surprises at the closing table, and carefully reading the title commitment can help you have a smoother closing day.
Parts of a title commitment
No matter where you get your title insurance, your title commitment is going to have the same basic parts. Knowing what to look for when you read a title commitment can help you read it more efficiently and better identify potential red flags. Every title commitment begins with several standard pages, followed by Schedule A, Schedule B-I, and Schedule B-II.
Schedule A: Status

In Schedule A, you'll find identifying information particular to the individual real estate transaction. In this section, you'll see:
Buyer's name
Purchase price
Lender
Loan amount
Currently vested owner(s)
Legal description of the land
Address
Date of the title commitment
Realtors should always verify that this information is correct. McConatha says, "One thing to really pay attention to is the currently vested owner. This owner may not be who you know to be the seller. This is a red flag that needs to be addressed right away."
For example, if your seller is divorced but the former spouse is still listed on the title, you need to alert the title company right away. If the divorce decree gave the home to one spouse, the title company will need to locate a quitclaim deed to ascertain ownership. In the absence of a quitclaim deed, the title company will need the divorce decree to know exactly how to transfer property ownership. These extra steps take time, and if this isn't discovered before closing, it can lead to frustration and delays.
The date is also important to note. Because the title company can't predict the future, the title commitment will not reflect anything that may happen after that date. "If a deed is recorded or a lien is filed against the property after this date, the title company won't know about it," McConatha explains.
Schedule B-I: Requirements
In Schedule B-I, you'll find information about items that need to be addressed before closing in order to present a clear title. Your closer will prepare the appropriate documents for closing and handle most of these issues. In this section, you'll find information such as:
Who needs to sign the deed at closing
Who needs to sign the mortgage
Any mortgages the seller needs to pay off
Required letters, such as sewer, fire, or municipal letters
Any judgments against the seller that need to be paid off
Tax status
Because the realtor is more familiar with the property and the sale, they are better equipped to identify any potential red flags in this section. "While realtors should read all sections of the title commitment, this is the section where you're most likely to spot issues," McConatha says.
While issues aren't common, they do occur. In some situations, two mortgages may be attached to a property, but the seller may only be aware of one. If this is the case, you'll either need to get a release on the old mortgage or find out why it wasn't released previously.
McConatha says, "Another place where there's a lot of confusion is with judgments." She explains, "Judgments are indexed by name, not by property, so we conduct a name search. If we find any indexed to the seller's name, we will then require them to be released. In the case of common names,you may see judgments on the title commitment that ultimately will not apply."
If you review Schedule B-I and find that your client has a judgment that seems incorrect, don't be alarmed. The settlement agent will verify judgments, bankruptcy filings, or tax liens against the last four digits of your client's social security number. Any incorrect judgments will fall off. Including all possible judgments in this section on the title commitment ensures that the correct ones are ultimately addressed.
McConatha says, "Realtors can see red flags that wouldn't be red flags to us at the title company. Our goal is to get this right, so if you see something that seems off, let us know right away."
Schedule B-II: Exceptions
In Schedule B-II, you'll find exceptions to the title insurance coverage. These are usually standard exceptions, and may include:

Power company easements
HOA covenants and restrictions
Mineral and water rights
Another standard exception is for matters that otherwise would have been disclosed if the parties had gotten a survey. "For example, if there are any encroachments, or if there's a question as to whether the boundaries include certain improvements or structures, those issues will not be covered by title insurance," McConatha says. "However, if a survey is obtained ahead of time, this allows the parties to work those matters out to their satisfaction prior to closing."
Other less common exceptions exist for manufactured homes and foreclosures. McConatha explains, "Most of the time, we can't issue title insurance for manufactured homes, but we can insure title to the land it is on." In the case of homes that have been foreclosed on in the last six months to a year, title insurance will not cover over the previous owner's Right of Redemption.
McConatha says, "The title company will usually notify you if there's something unusual about these exceptions that you need to be aware of and share with your client." It's helpful to know these exceptions since these can impact the buyer's use of their property.
What to do with the title commitment
"When you get the title commitment for a transaction, the most important thing you can do is read it as soon as possible," McConatha says. "If you see any red flags or have any questions, call us right away. The sooner we know about issues, the better. We want to address these long before we get to the closing table." By promptly and carefully reading the title commitment, you can identify any potential red flags, helping everyone to have a smoother closing experience.
At South Oak, we're happy to answer any questions you have throughout the entire closing process. If you have questions about a title commitment or anything else related to your closing, call your local South Oak Title and Closing office, or contact us using our online form.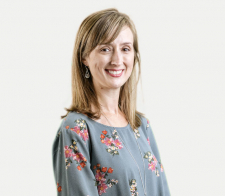 This post is not meant to be taken as legal advice and is not to be a replacement for the legal advice of a lawyer. If you are buying or selling your home, please contact your lawyer for more information.
Erin McConatha is an attorney and Title Underwriter at South Oak Title and Closing in Birmingham, Alabama. A graduate of UAB and Cumberland School of Law, Erin has been part of the South Oak team for two years.