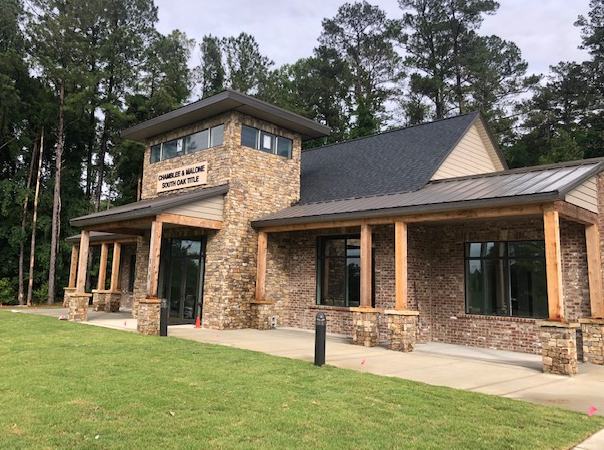 Get to Know our Trussville Closing Attorney
Apr 27, 2023 | Team South Oak | Share:
Did you know that South Oak has nearly twenty locations across the Southeast? At every location, you'll find outstanding service from staff that treats clients like family.
Shami Malone, one of our incredible partners and closing attorneys, has partnered with South Oak to provide title and closing services in Trussville since 2015. She's dedicated to serving clients and the Trussville community through her work.
We spoke with Shami to learn more about her work as a closing attorney and to highlight what makes her – and the entire Trussville team - so special.

How did you decide to become a closing attorney?
I wanted to be an attorney from the time I was a little girl. I didn't think I wanted to be a trial attorney, but I did know that I wanted to work in law. While I was still in high school, I got a job working for an attorney who practiced across several areas of law.
That job gave me exposure to different types of law, and it confirmed to me that I didn't have the personality or desire to work in litigation. But I also learned that I enjoyed real estate law, and I could see myself working as a real estate attorney. I continued to work with this attorney while I worked my way through college and law school. This gave me valuable real-world experience, and I never wavered from wanting to work in real estate law.
I graduated from law school in 2000, and I joined my current law partner, Carl Chamblee, Jr., in 2002. We're still working together, and we conduct real estate closings, perform estate planning, and do both probate and corporate work. My partner also handles any litigation for our firm.
I had been practicing law with my partner in Trussville for over ten years when I met the owners of South Oak, Marcus Hunt and Robert McNearney, in 2014. I enjoyed hearing about their company, and we had several conversations about beginning a partnership.
I really loved the work they were doing in the Birmingham area, but I was very methodical in deciding to partner with them. I wanted to make sure we were a good fit for their company and culture. So after about a year of conversation and consideration, we opened South Oak in Trussville in 2015.
What does a typical day look like for you?
It's hard to describe a typical day since every single day is different. We joke that our calendar is a lot like a Jenga puzzle: you can look at the calendar the night before to prepare for the next day, but once you come in the next morning, things can look really different. Closings and appointments can shift around, and it really keeps us on our toes.

Once closings begin for the day, you'll usually find me at the closing table. In between closings, I'm helping our team prepare our other files. I started from the bottom and worked my way up in real estate law so I can do just about everything, whether it's responding to emails, examining files, or preparing closing documents. I like to stay as involved as possible and help our team prepare for the next day or week of closings. We truly do operate as a team in Trussville!
How does family play a special role at South Oak Trussville?
While we always treat our clients like family, I also have the privilege of working with my family. I've worked with my sister Shalee for over twenty years, and she is a key part of our success at South Oak Trussville. Although she isn't an attorney, she knows as much (if not more) than I do!
Before we started working together, Shalee worked for a real estate appraiser. She became familiar with real estate law and got a feel for the process from that perspective. We've been working together since I became an attorney. And while most siblings say they couldn't work together, I can't imagine working without her.
Although we aren't twins, we often joke that we have a twin mind: we really understand each other, and we can sense things about each other. It feels like we can read each other's minds, and it's not unusual for her to know what I'm thinking before I even say it.
Although the rest of our team isn't family, we truly operate like one. We genuinely love each other and are engaged in each other's lives. We're always communicating both in and out of the office, and I think we have a really unique bond. We have grown to rely on each other and support one another.
Family also played an important role in the construction of our new building! Shalee's husband actually built our beautiful new office.
What made you decide to build a new office in Trussville?
For the past several years, I've known that I wanted to be a permanent part of the Trussville community: it's where I live, where I go to church, and where my kids go to school. I purchased the lot for our office when it became available, but we didn't begin building right away. We wanted to make sure we knew what we wanted to build and that we had a peace about the timing.
My brother-in-law built us a beautiful office that looks and feels like a retreat. I really wanted clients and friends who came to our office to feel like they were at home. I love working here every day, and I also love that it's just a short drive from my house.
What's the best part about working in Trussville?
I love that Trussville really has kept a small-town feel. I grew up here, and I graduated from Trussville High School. Although it's not the small town that it used to be, it certainly still feels that way. I love living, working, and raising our family in Trussville.
Everywhere you go, whether it's the grocery store or the ballpark, you always see someone you know or recognize. By working in Trussville, I truly feel like I'm able to invest in our community. I love being approachable and available to anyone who needs me.
When someone purchases a home, it's usually their largest investment. It's a phenomenal feeling to get to be a part of someone making a home for themselves. I don't take that trust for granted.
What do you wish realtors and clients knew about your job?
We work hard to make closing day stress-free and easy for realtors, lenders, and their clients. If we achieve that, we've done our job well. But just because a closing looks easy, that doesn't mean that it is.
Our entire team puts in countless hours before closing day to ensure that every file gets the care it deserves. We prioritize accuracy, and we are all working behind the scenes to ensure that every client has an enjoyable closing experience.
Whether you're a realtor, a client, or someone in the community – we're here for you. We love being a resource to people, answering their questions, and supporting them in whatever way we can.
What would you say to someone considering a career as a closing attorney?
If you're looking for a laid-back and easy career, this isn't the job for you! Life as a closing attorney is fast-paced and can even feel a little frantic. But there's never a dull moment, and the days seem to fly by.
That said, my work as a closing attorney is truly rewarding. I love serving our community and taking care of people, and I feel honored to be a part of their lives in this small way.
I try to view my job as so much more than a job, and I truly see what I do every day as my mission. I feel like God has gifted me as a servant, and I love using these gifts to help other people, to be a resource, and to serve people where they are. It is such a blessing to meet new people every day, and my prayer is that they would see Jesus in me.
At South Oak Trussville, our entire team is here for you. Contact us with your questions, or schedule a closing today.