South Oak: The Best Title and Closing Experience in Huntsville
Mar 23, 2023 | Team South Oak | Share:
Huntsville has experienced explosive growth over the past twenty years. As the largest city and the second-largest metro area in Alabama, Huntsville is an exciting place to live and work.
South Oak has brought a new approach to title and closing to North Alabama and is making a significant impact in the Huntsville metropolitan area.
We spoke with the employees at South Oak Title and Closing in Huntsville to learn what makes South Oak the best place to close on a home in North Alabama.

What's Special about South Oak Title in Huntsville
Mandy Kate Malone, Client Development at South Oak Huntsville, says, "Huntsville is incredibly diverse: we have engineers, artists, rocket scientists, and people from all over the world. It's a true melting pot, and it's a really great place to live and work. And Huntsville is unlike anywhere else in Alabama – there's a really laidback and fun vibe here. You see every walk of life in Huntsville, and everyone is so accepting and open-minded. We really try to reflect that at our office."
Over the past twenty years, Huntsville has also experienced explosive growth. "While the Arsenal and NASA have been a huge part of Huntsville for a long time, there have also been new companies such as Blue Origin coming to the area. I grew up in Huntsville, but I went away to the University of Alabama for school. Every time I would come back home, there'd be something new – a new bar, a new restaurant, or a new apartment complex," she continues.
"Real estate is booming, and there's new construction everywhere. And that growth isn't limited to Huntsville. You can see the growth everywhere: Athens, Madison, Harvest, Monrovia, North Huntsville, and South Huntsville are all growing."
South Oak is a title and closing company that truly fits Huntsville's culture. Paula Hall, Branch Manager/Escrow Officer at South Oak Huntsville, says, "South Oak is a bit of an industry disrupter here in Huntsville. When South Oak came to Huntsville seven years ago, it was really the first big title and closing company in the area."
"Most real estate closings in North Alabama have typically taken place in an attorney's office, but South Oak provides a different type of closing experience for customers. We have a much more relaxed atmosphere, and our office definitely doesn't feel like your typical attorney's office. And we're able to serve clients in counties all across North Alabama, including Madison, Morgan, Marshall, Limestone, and Jackson counties."
Amber Hamrick, Post Closer, says, "We have an incredibly small, supportive environment in our office. We play off each other's strengths and weaknesses. If one of us can't do something, someone in the office can. We're always helping each other learn more."
The Best Place to Close on a Home in Huntsville
Like all South Oak offices, South Oak Huntsville works hard to give customers an amazing closing experience. That starts with concierge service. Hall says, "We're dedicated to making things run as smoothly as possible so that clients have an outstanding closing experience from start to finish. Every single file gets individualized attention and care. We handle everything for our agents so that they can focus on serving their clients. But we're also here for our clients no matter what they need or when they need us."
"We try to be really attentive to what our clients need. Paula truly babies our files, and we're committed to being attentive to email and communication. We really cater to our clients' specific needs," Malone says. "And we love finding other ways to serve our clients. I particularly love connecting clients with individuals or organizations that can help them and take care of them."
You'll also find that we are really flexible and able to accommodate some really unique closing needs. "We want everyone who comes to our office to close to have an amazing experience, but we also know that not everyone can come into the office to close. We'll travel for closings, we'll close on a weekend, and we'll do whatever we need to do in order to take care of the closing," Hall explains.

"We recently did a remote closing for a family that was in Disney. Their closing got delayed and they were worried the seller wouldn't allow an extension, so we just made it work. We sent a notary to them, and we scheduled a Zoom closing. We all wore Mickey Mouse ears and made it a really fun experience for everyone involved," Malone adds.
South Oak Huntsville also has a really unique atmosphere. "This isn't your typical attorney's office. Although we're professionals who want to take care of every client's title and closing needs in a legal, ethical manner, we also want people to be comfortable. Everyone works hard and collaborates to ensure that everyone who walks through our doors feels welcomed and has a great experience," Hall shares.
Allison Daniel, Pre-Closer, says, "It's truly a close-knit, family environment here. Our interactions with people are definitely more personal. We don't see closings as a simple transaction; we're always looking out for everyone's best interests."
But it's not just the employees who work to make clients comfortable: South Oak Huntsville also has several friendly pups to welcome clients. Malone says, "In Huntsville, everyone brings their dogs everywhere. So we do too! We love our dogs at South Oak, and on any given day there are usually at least a couple of dogs hanging around the office."
Daniel says, "Our dogs definitely help create a more comfortable environment for everyone. Our clients love to see them, and we have an agent that always requests that we have a dog there for closing. A lot of kids also love to interact and play with them during closing."
"Paula's dog, Houdi, and Allison's dog, Luna, are there every day. Sometimes I'm on the go, but when I'm in the office, my two dogs, Bea and Sam, are also in the office," Malone shares. But if dogs aren't your cup of tea, don't worry; our well-mannered dogs are happy to hide out if they need to.
Serving the North Alabama Community
While South Oak is committed to serving clients day in and day out, we're also committed to serving the greater community. Malone says, "We recently were recognized at the North Alabama Mortgage Nammy's with an Excellence in Service Award. This award is a huge honor because it really does sum up what we do."
"We go out of our way to ensure that clients all over North Alabama have an amazing closing experience. We truly look at the individuals behind every real estate transaction to make sure that they're taken care of. We want everyone who closes with us to feel like they're with family, and we want to be a trusted partner for realtors. We feel like taking care of people day in and day out really does serve the community."
South Oak also serves North Alabama in other ways. South Oak has an ongoing partnership with Kids to Love, an organization that meets the needs of kids in foster care. We work to aid Kids to Love throughout the year and especially during the holiday season. South Oak is also committed to giving back to our veterans and active duty members of the military.
Hall says, "If you're currently serving in the military or if you've ever served, we offer a military discount. This discount is a low, flat fee that's offered regardless of the type of loan you have or whether you're the buyer or the seller. This is just a small way we can say, 'Thank you," to our servicemen and women."
South Oak Huntsville is always looking for ways to partner with and serve the North Alabama community, whether it's through sponsorships or fundraisers.
Exciting Things Ahead at South Oak Huntsville
2023 is shaping up to be an exciting year for South Oak Huntsville. Malone says, "One of the things I'm most excited about this year is growing our partnerships with realtors. We're looking to be really intentional as we grow these relationships and let them know that we're truly here to serve them and make their life easier."
"In February, we had a Galentine's Day party with Capstone Realty. We're looking to create some fun, relaxing events each month with different brokerages and really cultivate those relationships."
Hamrick adds, "I'm really looking forward to seeing how much we can grow. We're growing relationships, growing trust, and really growing our ability to impact clients in Huntsville."
Daniel agrees. She says, "We're all gearing up and are excited about the new growth. With that, we're also looking forward to stepping up our game, learning more, and pushing ourselves to be even better."
The Huntsville office is also planning an exciting fundraiser for late this summer. "We really do love our dogs here, so we're working on a Dogs for Dogs fundraiser to raise money for Peace, Love, and Animals animal rescue in Limestone County. Several of our dogs are rescues, and this organization not only rescues but also assists with dogs that need expensive medical procedures," Malone continues.
"We hope this will be a fun event for the Huntsville real estate community that will also raise money for something we're passionate about. We'll serve hot dogs at a low cost, and have food vendors and treats for the pups that come. While we're still in the planning stages for this event, we think it's going to be a lot of fun for people and dogs alike and a great opportunity for the real estate community to come and give back."
South Oak Favorites
South Oak Huntsville loves supporting local businesses and restaurants! If you're looking for a great place to share a meal, wind down with some friends, or buy a unique gift, we have some recommendations for you:
And if you close with us in Huntsville and have a great local recommendation, we're always excited to try something new.
Hall says, "We want everyone who works with us to know that they're in good hands. No matter who you are, we're going to treat you like family and give you the service you deserve. At the end of the day, we want everyone to feel like they're at home and have a stress-free closing experience."
To experience first-hand the South Oak difference – and to meet our office pups – order a title or schedule a closing at South Oak Huntsville today.

---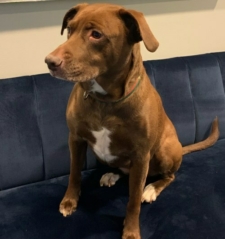 Bea
Bea is Mandy Kate's Tuscaloosa baby and is the queen of her household. She is 7 years old and is a chocolate lab/pit/boxer mix and weighs about 75 pounds. She has the most sass and has been my best friend since day one. She is the best companion and never leaves Mandy Kate's side. Bea loves to swim and play outside with her cousins and her brother, Sam.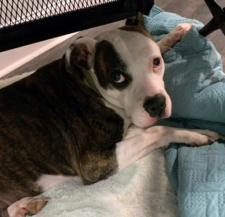 Houdi
Houdini, better known as Houdi, is the Hall family's beloved pit bull. He was rescued off the streets almost four years ago, and we think he's about 7 years old. He's spoiled rotten, enjoys his breakfast in bed, and loves nothing more than his "working days" at South Oak Huntsville. Since he's been at work with his mom, Paula, every day for the last 3 ½ years, he could probably conduct a closing himself. His favorite place is nestled right beneath her desk while she works.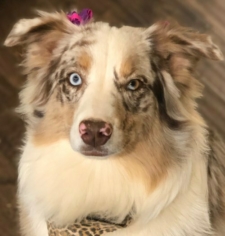 Luna
Luna is Allison's two-year-old Australian Shepherd. She loves anything that involves a ball or a frisbee, but cuddles are her favorite. She's been by our side through the sale and purchase of our first and second home, and she's recently taken on the role of "big sister" with the birth of Allison's little girl. She is always down for a ride, run, or play, and she never meets a stranger.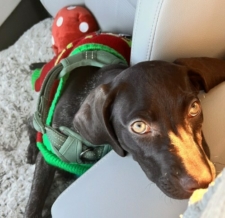 Sage
Sage is Amber's 7-month-old German Shorthaired Pointer. She loves going for runs and playing with all kinds of toys. She loves other animals – especially her work friends. She has tons of energy but also loves to cuddle with her mama.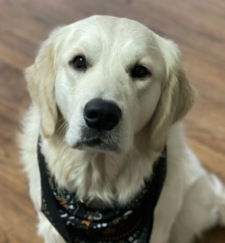 Sam
Sam is Mandy Kate's 1-year-old English Cream golden and is the most happy-go-lucky pup in the world. At just over 80 pounds, he still thinks he is a lap dog. He's always getting into trouble and looking for attention from anyone who will give it to him. He adores his furry friends and loves his big sister, Bea. He also loves going on walks and playing out in the yard, where you can often find him digging holes.